11 sep 18:30

News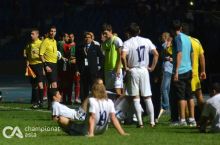 World Cup Qualifying. Uzbekistan national team has finished his way on Brazil
Anzur Ismailov's missed penalty at the end of a tense shootout saw Jordan remain on course for a maiden FIFA World Cup appearance after edging out Uzbekistan 9-8 on penalties following a 1-1 draw in Tuesday's play-off second leg.
Ismailov had earlier opened the scoring for the home side after just five minutes at Pakhtakor Stadium as Uzbekistan looked to build on last week's 1-1 draw in Amman.

Like in the first leg last week Uzbekistan made the better start, but on this occasion, they were able to find the early breakthrough as Jordan goalkeeper Amer Shafi did well to push out Server Djeparov's free-kick after recalled midfielder Oleg Zoteev had been pulled back only for centre-back Ismailov to follow up from the edge of the six-yard area.

But neither side were able to find that crucial second goal, and the tight nature of the contest continued into the first period of extra-time which was briefly interrupted due to a floodlight failure with Uzbekistan's Ivan Nagaev and Jordan's Odai Al Saify creating the best attacking threats.

And the second half followed suit with neither side willing to commit numbers in attack which led to a lacklustre 15 minutes and eventually penalties.

Jordan were handed an early lead in the shootout as Ahmedov missed the first spot kick for hosts after Anas Bani Yaseen had converted for the visitors.

And with the score progressing to 4-3 as all of resulting penalties were successful converted, Ahmed Hayel had a chance to win the match for Jordan but the striker failed to convert allowing Igor Sergeev to level the tie for Uzbekistan.

But after the next nine players to step up converted, Ismailov was unable to follow suit and Jordan advanced to November's intercontinental play-off.

< show latest news