03 aug 14:36

News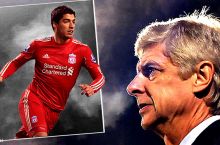 Wenger still targeting Suarez despite Liverpool snub
Arsenal manager Arsene Wenger said on Friday he is still keen to sign Uruguayan striker Luis Suarez even though Liverpool have rejected two offers from the Gunners for him.
"We will completely respect what Liverpool want to do," Wenger, talking before this weekend's friendly pre-season warm-up Emirates Cup competition, said.
"We want to sign the player if it is feasible in an amicable way. I am a great believer you have to keep as much confidentiality as possible, which is quite difficult in the modern world.
"But we work very hard, not only on the case you name, but on other different cases."
"We are working very hard to strengthen our squad.
"I am confident. You look at many teams around us. Nothing has happened until now. At the moment the market hasn't moved a lot. Apart from Man City, nobody has done anything."
< show latest news