18 jun 19:03

News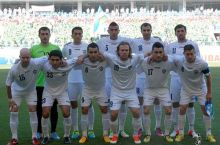 Uzbekistan vs Qatar 5-1
Tashkent: Uzbekistan has crashed Qatar 5-1 in their final FIFA 2014 World Cup qualification match in Tashkent. Uzbekistan's hopes to directly qualify for their first ever World Cup has been vanished as South Korea has lost in their home ground 0-1 to Iran despite South Korean head coach Choi Kang-he had earlier promised to beat Iran.
In the first half Uzbekistan had a big advantage having 8 shots on target against Qatar's 1. Uzbekistan had 12 corners in the first half only. Goal scoring opportunities were missed by Geinrikh, Bakaev, Tursunov. 3 times Uzbek players rattled the frame of the Qatar's goal.
But it was Qatar who scored the first goal of the match against the lead of the play, as A.Adam has netted the ball from the 6 yard area after the mistake of Uzbek defense.

Second half was different as Uzbekistan scored 5 goals. Nasimov scored twice, Zoteev, Ahmedov and Bakaev each netted once, but it was not enough to directly qualify to the World Cup.

Uzbekistan now has to play a play off math with the third team of the group B Jordan or Oman for a chance of playing with the 5th team of CONMEBOL for a World Cup ticket.

< show latest news