14 oct 15:50

News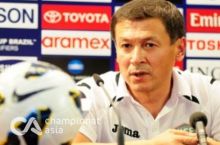 Uzbekistan - Vietnam pre match press conference
Today was a pre-match press conferece before the 3rd round match of Asian Cup between Uzbekistan and Vietnam.
Mirdjalal Kasimov: - We have not enoug points after 2 rounds. We have to beat Vietnam tomorrow. We studied opponent very well. They played 2 friendly games in Qatar. Vietnam played well with UAE and Hong Kong in the AFC Asian Cup qualification. I liked their games. But anyway our target is to reach 3 points.

I want to retire from my post, but I met with UFF President Mirabror Usmanov and decided to continue my job. I have motivation to my work still.

I watched Vietnam match with Qatar. Vietnam made counterattacks and scored 2 goals. I said to my players we have to respect opponent.

I didn`t call Odil Akhmedov to camp this time. Because of I want to test Musaev and Haydarov in the central mifdield. I give chance to these players against Vietnam.

Nguen Van Ci: - Uzbekistan is very strong team. They are one of the bests in Asia. We respect this team. Our aim is to play football and give battle in the field. We had some difficulties to come to Tashkent. We flied via Kazakhstan and were 24 hours there. Players had little tired, but we will try to beat it for tomorrow`s match. We have no any misses in the squad.

We watched both games of Uzbekistan with Jordan. Uzbekistan played well, kept ball control and lost in penalty kicks. Our opponent is very good at all sides, but we will try to show you some weak points of them.
< show latest news