05 aug 16:02

News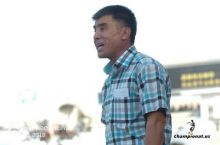 Uzbekistan Oliy League. What did coaches say after the matches?
Yesterday started second leg of Uzbekistan Oliy League. Here you can read what coaches said in the post-match press conferences.
NASAF - GULISTON 3:1
Ruzikul Berdiev, head coach of Nasaf: We had many chances in the beginning of the game but it was difficult to score. After break players showed a good game and we took 3 points. I hope we can play better in next matches.

Bakhtiyor Ashurmatov, head coach of Guliston: I congratulate Nasaf with three points. They were stronger than us thats why we lost the game. Today we tried to show close football. We hope our team wins home matches.

PAKHTAKOR - BUKHARA 2:1
Murod Ismoilov, head coach of Pakhtakor: FC Bukhara showed a good football against us. We always try to find something interesting in trainings. Players train well but in the game you can not always show what you want to do. If we want to develop we must work hard.

Tachmurad Agamuradov, head coach of Bukhara: We are not shy what we showed today. I agree that Pakhtakor is a strong team. But we also tried not to lose. We are happy that we scored against Pakhtakor while we played 10 men on the pitch.

NEFTCHI - SHURTAN 2:0
Amet Memet, head coach of Neftchi: We had very difficult match. But we tried to give joy to our fans. If you win all fans will be happy. We have many mistakes. I think well be strong enough till the end of the tournament.

Zoir Turakulov, head coach of Shurtan: We tried to show our best. But Neftchi was stronger in mastership. Im confident with the game but not with the result.

DINAMO - KIZILKUM 1:0
Ravshan Haydarov, head coach of Dinamo (photo): We knew that it would be very tough game. Both teams signed many new players so we and Kizilkum couldnt show beautiful football. Anyway we won this match and took three points. Now we can prepare to next matches.

Yuri Lukin, head coach of Kizilkum: Spectators saw different two half times. In the first half of the match Dinamo played well but in the second half we showed good football. Especially in the end of the match our team had several chances to score. I think we werent lucky today.

< show latest news