07 aug 13:24

News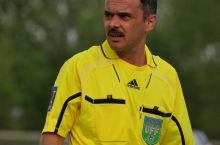 Uzbekistan Oliy League. Round 15 referees are announced
Oliy League's round 15 matches will be played on August 10. Central match of the round will be held between Bunyodkor and Pakhtakor at JAR stadium.
The game starts at 19:00. The committee of referees and inspectors are announced list of referees for round 15.

August 10, Saturday
SHURTAN – DINAMO
Referees: V.Kovalenko, M.Saidkasimov, Kh.Mirzaahmedov, A.Irgashev.
Inspector: A.Arutyunov.

NAVBAHOR – NEFTCHI
Referees: R.Irmatov, A.Rasulov, J.Saidov, A.Muminov.
Inspector: A.Abdullaev.

BUKHARA – METALLURG
Referees: A.Asimov, V.Lushin, T.Gaynulin, N.Boltaev.
Inspector: G.Karimov.

BUNYODKOR – PAKHTAKOR
Referees: M.Ismoilov, A.Snetkov, R.Shoyakhmetov, V.Agishev.
Inspector: R.Aytekov.

OLMALIK – LOKOMOTIV
Referees: R.Bobomuradov, R.Samandarov, O.Jumaev, V.Serazetdinov.
Inspector: G.Imamov.

GULISTON – SOGDIANA
Referees: Z.Kodirov, N.Ruzimov, U.Karimov, R.Tolibjonov.
Inspector: S. Najafaliev.

KIZILKUM – NASAF
Referees: V.Seytlin, R.Serazetdinov, A.Usmonov, N.Meshkov.
Inspector: A.Popov.

< show latest news