09 nov 13:50

News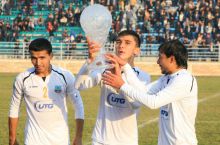 Uzbekistan Oliy League. Bunyodkor is champion of Uzbekistan
Goals from Olexander Pischur and Sardor Rashidov against Sogdiana helped Bunyodkor to be champion of Uzbekistan.
It was believable that Bunyodkor could win Sogdiana in Jizzakh. Thats why team played well organized. At first Olexander Pischur opened the score in the 7th minute of the match. Then in the beginning of second half Sardor Rashidov made it 2-0. Three points were enough for Bunyodkor to be champion even if Lokomotiv won on that day.

In the last round Lokomotiv Tashkent had also away match in Bukhara which finished 1-0 and the only goal scored by former Bukhara player Jasur Hasanov. The victory helped FC Lokomotiv to finish second in the tournament table.

Both Nasaf and Pakhtakor finished their matches with the same result 2-2. Interesting fact is Nasaf scored both goals from penalty kick by Artur Gevorkyan. Pakhtakor leading 2-0 couldnt save the score and received two goals. So Nasaf finished third place while Pakhtakor took fourth place.

Shurtan and Gulistan went to First Division. In the last match Gulistan had a good chance. But they couldnt beat FC Kizilkum at home. Three goals from Zafar Turaev helped Kizilkum finish the tournament in 12th place.

Round 26. November 8.

Dinamo (Samarkand) - Neftchi (Fergana) - 2:0. 2564 spectators.
Shurtan (Guzar) - Metallurg (Bekabad) - 3:3. 2352 spectators.
Navbakhor (Namangan) - Pakhtakor (Tashkent ) - 2:2. 3582 spectators.
Bukhara (Bukhara) Lokomotiv (Tashkent) - 0:1. 7305 spectators.
Sogdiana (Jizzak) Bunyodkor (Tashkent ) - 0:2 . spectators.
Almalik (Almalik ) - Nasaf (Karshi ) - 2:2. 1555 spectators.
Gulistan (Gulistan ) - Kizilkum (Zarafshan ) - 2:3. 4255 spectators.


< show latest news