14 jun 12:45

News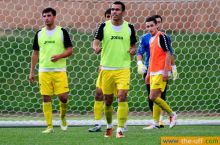 Uzbekistan National Team Started Training Camp at Jar Staduim
Uzbekistan national team under Mirjalol Kasimov started the training camp to prepare for the match against Qatar to be played on June 13. The training sessions are taking place at Jar Stadium in Tashkent.
The Uzbekistan national team has lost the match against the South Korea last week with the score 0:1, after Akmal Shorakhmedov's own goal at the end of the first half.
Uzbekistan will host Qatar in the last qualification match of the FIFA 2014 World Cup at Bunyodkor Stadium on June 18. The match kicks off at 5 pm by Tashkent time.
< show latest news