11 sep 22:15

News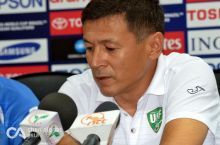 Uzbekistan – Jordan 1:1 (pen. shootout 8-9). Post match press conference
Uzbekistan couldn't win against Jordan at home. Like the first match second game also ended with 1-1. But in penalty series Jordan was lucky.
Uzbekistan coach Mirdjalal Kasimov insisted Uzbekistan must begin preparations for the future as soon as possible following Tuesday's heart-breaking penalty shootout defeat by Jordan in their 2014 FIFA World Cup play-off.

"I accept responsibility and I will discuss with the management about my retirement from this post," said former Uzbekistan international Kasimov, who played both games against Bahrain in 2005.

"The team should begin preparation for the next campaign right now as we did not achieve good results during these qualifiers. I think all the players gave their best on the field, but now the national team needs to change. I must apologise to the fans. I must also thank my players because they battled to the end. We wanted to celebrate the victory with the fans, but we were unable to achieve our target".

Hossam Hassan, Jordan national team head coach: "I want to say thanks to my players as I am very pleased with the way they played. We knew before the game that Uzbekistan are a good team, but we believed that it would be possible before the match and this helped us achieve an important victory. Both teams had several chances to score and I think both Uzbekistan and Jordan deserve to continue towards the World Cup, but we were luckier in this game".

< show latest news