31 jul 10:56

News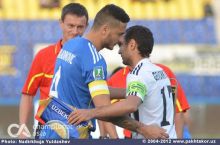 Uzbekistan Cup. Pakhtakor held to draw in home match against Nasaf
Pakhtakor was held to a draw in Uzbekistan Cup first leg semifinal after offside decision by the referees and cancellation of their goal.
The principal clash between two rivals ended with goalless draw. A slight dominance by Pakhtakor could even reflect on the scoreboard; however the allegedly offside decision by the referees cancelled Soliev's late goal.

Iskanderov froze two Nasaf defenders on the right wing and crossed to the six yard box to find Sergeev, and the latter passed to Soliev, who easily slotted home. However Soliev's goal was cancelled after the side referee raised his flag to signal offside. Both teams had few chances to score after that, but the final score remained draw.

In the second leg Nasaf will host Pakhtakor in Karshi on August 21.

Pakhtakor – Nasaf 0-0

Referees: V.Kovalenko, R.Ilyosov, M.Saidkosimov, B.Namozov.

Pakhtakor: Aleksandr Lobanov, Aleksandr Merzlyakov, Boyan Miladinovich, Akbar Ismatullaev, Maksimilian Fomin, Vladimir Kozak, Kakhi Makharadze, Dilshod Sharofeddinov (Igor Sergeev, 54), Sherzodbek Karimov, Oybek Qilichev, Temurkhuja Abduholiqov (Jamshid Iskanderov, 46)

Nasaf: Eldorbek Suyunov, Botir Qoraev, Hamza Karimov, Maqsud Karimov, Shukhrat Muhammadiev, Erkin Boydullaev, Ilhom Yunusov, Shohruh Gadoev, Artur Gevorkyan, Azamat Allaniyozov (Zohid Abdullaev, 64), Ilhom Shomurodov.

Warnings: Dilshod Sharofetdinov 2, Boyan Miladinovich 83, Anvar Soliev 84, Kahi Makharadze 86.
< show latest news