09 jul 13:35

News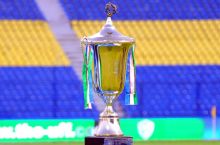 Uzbekistan Cup: Bunyodkor, Lokomotiv and Pakhtakor progress to semi finals
The three second leg quarterfinal matches of the Uzbekistan Cup were expectedly put to bed by favorites despite the unexpected first leg results.
Representatives of the First League Mashal hosted the second leg match against Bunyodkor after managing to draw 1-1 in the first leg match in Tashkent with holding champions.

Bunyodkor scored in the 36th minute when Blajic served a cross from the right wing to find Oleg Zoteev in the 6 yard box. Oleg's shot wasn't powerful but it was accurate enough to find the back of the net 0-1. It was Bunyodkor to score its second goal in early second half. Pishur doubled the lead of his side 0-2.

Lokomotiv Tashkent had to sweat hardly to bounce back after losing the first leg away match to Kizilkum 0-1. Kizilkum keeper fouled against Farkhod Tojiev in his box and the referee awarded a penalty. Zayniddin Tojiev's brother hit the penalty against the post, but it was Viktor Karpenko to send the returned ball home to put Loko in the lead 1-0 in the 36th minute. Extra time of 30 minutes was required to find the winner, and Lokomotiv was the lucky side to score a late winning goal to progress to the semi finals, where they will take on Bunyodkor in two leg matches.

Pakhtakor has secured a comfortable 4-0 win against Gulistan. Boyan Miladinovich scored an opening goal by his header in 26th minute 1-0. Few minutes later Abdukholikov doubled the lead. In the 41st minute he scored his second, and his team's third goal 3-0. And Hoshimov tapped the right cross home and provided the thrashing result for his side.

Semi final fuxtures:
Bunyodkor - Lokomotiv
Nasaf – Pakhtakor


«Mashal» (Mubarak) – «BUNYODKOR» (Tashkent) 0:2
Goals: Oleg Zoteev 36, - 0:1. Oleksandr Pishur 46, - 0:2.
"Mashal": Kuvvatov, Abdumuminov, A'zamov (Toshpulatov, 84), Murtazoev, Khasanov, Xotamov, Shukurov (Shaymanov, 46), Shodmonov, Fayziev, Kuttibaev, Kuzibaev (Klishin, 71).
"Bunyodkor": Nesterov, Shorakhmedov, Karimov, Blajich (Rahmatullaev, 70), Ibrokhimov, Taran, Pishur, Turaev, Filiposyan, Juraev (Gafurov, 65), Zoteev (Rashidov, 57).
First match– 1:1.

«Lokomotiv» (Tashkent) – «Qizilqum» (Zarafshan) 2:0
Goals: Viktor Karpenko 39, - 1:0.Dilshod Rakhmatullaev 114, - 2:0.
"Lokomotiv": Bugalo, Abdullaev, Kholmatov, Z.Tadjiev, F.Tadjiev, Azamov, Jasur Hasanov, Tuxtaxujaev, Sharipov, Karpenko, Jabbarov.
"Qizilqum": Tadjibaev, Ayzattulov, Kambarov (Vlasichev, 90), Ilin, Gulomxodjaev, Gulamov, Mandzukas, Haydarov, Xolmatov, Vasilev, Boboqulov (Shotursunov, 46).
First match – 0:1.

«Pakhtakor» (Tashkent) – «Gulistan» (Gulistan) 4:0
Goals: Boyan Miladinovich 26, - 1:0.Temurxodja Abduxalikov 30, - 2:0. Temurxodja Abduxalikov 41, - 3:0.Ildar Mamatkazin 88, - 4:0.
"Pakhtakor": Lobanov, Miladinovich, Ismatullaev (Makhstaliev, 46), Khalmuhammedov, Abduxalikov, Merzlyakov, Hashimov (Mamatkazin, 66), Sharofetdinov, Kilichev, Masharipov, Sohibov.
"Gulistan": Usmanov, Sattaev, Atadjanov, R.Khasanov, Yuldashev (Khudayberdiev, 68), Korakulov, Akbarov (Teshaboev, 55), Kurbanov, Juraev, Boev, Xayrov.
First match – 3:1.

< show latest news