16 may 15:03

News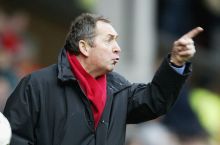 Professional Player Seminar organised
AFC, in association with the UAE Football Association, Pro League Committee, and Abu Dhabi Sports Council with supports from FIFPro, conducted the first ever Professional Player Seminar in Abu Dhabi under its football development programme KICK OFF.
Some 50 professional players of clubs around Abu Dhabi in the likes of Al Ain, Al Jazira, Al Wahdha, Baniyas and Al Dhafra attended the seminar featuring speakers from the organisers as well as FIFA and INTERPOL.

The main discussion point of the seminar was about the rights and obligations of the professional players as well as the importance of education to prepare for their second career.

Besides, the risks of match-fixing were discussed from the players' perspective, the potential seriousness and consequences of match fixing.

Former Liverpool and Lyon coach Gerard Houllier (pic) led the discussion panel also featuring Bani Yas striker Mohamed Aboutrika and Brendan Schwab, the Chairman of FIFPro Asia/Oceania.

While explaining the emotional and instinctive sides of the professional players the much-travelled Frenchmen said: "Football is full of emotions. As the players are relatively young in the modern game, they tend to get more emotional and make mistakes. Those mistakes are part of life but the main thing is to learn from your mistake."

A joint panel consisting Julie Norris of INTERPOL, FIFA's Nick Raudenski and AFC also discussed the key principles in the fight against match-fixing.

KICK OFF is a revamped AFC development programme which focuses on strengthening the club and league management of AFC's Member Associations through tailor-made self-sustainable remedies.

The Professional Player Seminar, which aims to promote the professionalism of players off the pitch, is one of the 10 services which the programme provides to the Member Associations. Currently there are 13 countries benefiting from KICK OFF.
Source: the-afc.com
Image: goal.com

< show latest news