23 jul 17:13

News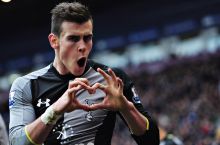 Operation Bale: the final straight
26th May was the day when Gareth Bale was made Real Madrid's number-one target.
It was the day when Barcelona announced the signing of Neymar – the unmentionable dream and obsession of Florentino Pérez.

The news triggered off Operation Bale at the Bernabéu. José Angel Sánchez – General Director at Real -, who foresaw a potential transfer fee of around €100 million, showed reluctance. But Pérez was convinced and if he was ever in doubt, he had Zidane – who had previously made sure there were no misgivings on the matter.

It was in February when the Frenchman travelled to Lyon to watch the Europa League tie between Olympique and Tottenham. 'Zizou's' report for the club president was emphatic: "He's the number one. The player's class lets you aspire to winning the Champions League. Not only is he a strong and fast player. He's also clever on the pitch".

The first conversation between Pérez and Daniel Levy about the possible purchase of Bale took place one month ago. However, negotiations did not advance and the pair agreed to speak again further ahead. Pérez seemed to understand that a formal offer could be made, to which Levy responded that the Welshman would not be sold.

This indicates that Real Madrid may have already made Tottenham an approach for Bale in recent weeks. It is believed the fee would be at least €80-85 million and could include Fabio Coentrao in exchange. However, such a deal could be extremely difficult to pull off.
< show latest news