14 aug 15:38

News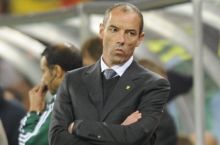 Oman coach wary of artificial pitch and Ramadan effects
Oman coach Paul Le Guen is concerned his side will still be feeling the effects of fasting during the Islamic holy month of Ramadan when they take on Singapore in an Asian Cup qualifier on Wednesday.
Muslims celebrated the Eid al-Fitr holiday on Thursday, which marked the end of the fast, but Le Guen was worried that his side would struggle, like they did the last time they travelled to Southeast Asia after Ramadan only to be thrashed 3-0 by underdogs Thailand.

"This period is always a little bit difficult, Ramadan," the former Olympique Lyon coach told reporters in Singapore on Tuesday.

"Two years ago, we played at the end of Ramadan against Thailand and we were punished. We have to remember that lesson."

Le Guen also faces the prospect of trying to lift a deflated side whose dreams of a first World Cup finals appearance ended with a narrow defeat in Jordan in June.

Oman are missing the key trio of goalkeeper Ali Al Habsi, midfielder Ahmed Mubarak and striker Amad Al Hosni for Wednesday's match and Le Guen also has concerns about the artificial turf used at the Jalan Besar Stadium in Singapore.

"I think it will be a tough game and I am respectful of the Singapore team," the Frenchman said.

"I ask my players to be focused on tomorrow's game, because of the period (Ramadan), the quality of the opponents and the context (the artificial pitch) and to be prepared that it will be tough."

< show latest news