15 jul 15:42

News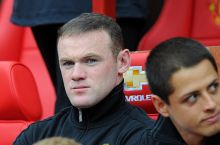 Moyes: Wayne Rooney needed at Man Utd as cover for Robin van Persie
David Moyes claims Wayne Rooney is still needed at Manchester United - as cover for star striker Robin van Persie.
Rooney has been the focus of intense speculation regarding his United future ever since former boss Sir Alex Ferguson revealed the England international had handed in a transfer request in May.
But the new man at Old Trafford insists the 27-year-old forward's flexibility remains an important asset for the club and so he is reluctant to let him leave.
"Overall, my thought on Wayne is, if for any reasons we had an injury to Robin van Persie, we'll need him," said Moyes.
The Old Trafford legend, speaking to Sky Sports News during a school visit as part of Sky Sports' Living for Sport programme, is also hopeful that Wayne Rooney will stay at Old Trafford.
Regarding Moyes' move to United, Beckham said: "I'm sure he has had lot of mentoring, he is one of those managers that has always picked up the phone and spoken to Sir Alex.
"It was always going to be diffcult job for whoever succeeded Sir Alex because of what the manager has brought to Mancester Utd, what he has brought to the game.
He added: "Wayne can play up on his own, he can play dropped in. It's going to be a time to see how I work with Wayne.
"Manchester United isn't about Wayne Rooney. Manchester United is about the team - the club.
"I won't allow Wayne Rooney to become more important than the football club and the football team, because that's the heart of it."
Rooney still has two years left on his deal at United and, as a result, Moyes does not feel under too much pressure to renew the contract or risk a cut-price sale.
"Maybe in a year's time we might have to look at something else," he added.
"The first year I have to get a chance to see the players and how best to use them."
< show latest news