12 jul 16:00

News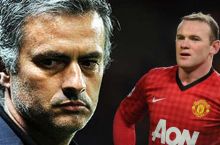 Mourinho says he admires Manchester United's Wayne Rooney
Chelsea manager Jose Mourinho has admitted that he is a huge fan of potential transfer target Wayne Rooney.
However, Mourinho stressed that Rooney is Manchester United's player at the moment and that he was not very comfortable speaking about the matter.
Rooney's future has been the subject of much speculation this summer, although new United boss David Moyes is adamant that he is not for sale.
The England man, who has had to leave United's pre-season tour due to a hamstring injury, has yet to publicly state that he is happy to remain at Old Trafford, and Chelsea are one of the clubs he has been linked with.
And, speaking at the start of their Thailand tour, Mourinho said: "It's a tricky question because I cannot speak about players from other teams.
"But you know me, it's not my kind of character to speak with a bit of hypocrisy and I always say what I think.
"He is a player I like very much but I can say no more than that. Being fast and direct, I like that, but he's a Manchester United player."
< show latest news