19 jun 15:43

News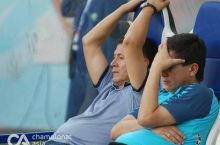 Mirjalol Kasimov Apologize to fans after beating Qatar 5-1
Head Coach Mirjalol Kasimov made an apology after missing the chances to directly qualify to the World Cup in Brasil.
In aftermatch press conference he answered to journalists.
"We had a serious preparation for the match and we were preparing to celebrate our qualification today. We wanted to present the World Cup ticket to our fans today, but we have failed. But life goes on. We have play offs ahead. I also want to apologize to fans. I might have upset them," said Kasimov.

"We have more games ahead. We'll have time to think about plans. It's hard to think of it now."

"We wanted to play well and score many goals. We didn't choose the game tactic based on the Korea's defeat or other result."

"We don't care who to play for the play offs. We will see who the team is and start learning them and start preparation accordingly," concluded Kasimov.


< show latest news