08 aug 13:26

News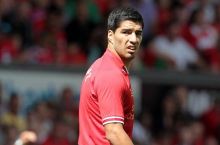 Luis Suárez asks for Liverpool exit
Luis Suárez has asked Liverpool to let him leave the club so that he can play Champions League football.
The 26-year-old striker told 'The Guardian' and 'The Daily Telegraph' that 'The Reds' had agreed last year to let him leave the club if Champions League qualification was not achieved and that he would force a move before 2nd September.
"I had the chance to join a top European club last season, but I stayed under the condition that they would let me go if we did not qualify for the Champions League," said the Uruguayan, who was the second top goal-scorer in the Premier League last season with 23 goals.
"I've told the club in private on many occasions that I would like to leave, but now I think it's time I did it publicly," added the player.
His potential departure also centres around the buyout clause on the last contract Suárez signed in 2012, which went up to £40 million (€46 million).
"They gave me their word one year ago and now they have to do their part. It's not a verbal agreement with the manager but something that was written in the contract. It's not that I want to leave to harm Liverpool," Suárez stated.
"People say Liverpool deserve more from me but I have scored 50 goals in less than 100 games and now they could double the money they paid for me," he said.
< show latest news