03 jul 11:23

News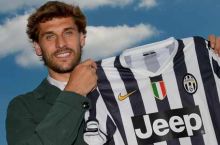 Llorente: "It's like a dream to be here. I want to win the title"
Following his triumphant arrival yesterday when around a hundred fans turned up to meet him at the airport, the former Athletic Bilbao striker was officially presented at the Juventus Stadium.
"I want to be part of the Juventus team that wins the Scudetto for the third consecutive season, so far it has only been done once, in 1935."

"I chose the number 14 shirt because I like it. Juve are a great team and I'm honoured that they made the move to sign me. Playing here is like a dream come true.

Am I like Ibrahimovic? He is a great player and we have similar qualities. I like the way he plays and I watch him a lot. Is Tevez to Del Piero like Llorente is to Trezeguet? Tevez and I aren't the only strikers here. Now Juve have six forwards and Conte will have to choose between us. I'm not concerned too much about scoring, what's important is to be useful for the team and to win. I want to be part of Juve's third successive Scudetto-winning side."
< show latest news