11 aug 15:46

News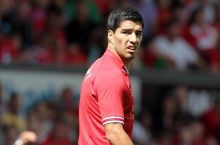 Liverpool boss Brendan Rodgers says Luis Suarez must apologise to squad
Liverpool boss Brendan Rodgers insists Luis Suarez must apologise to the club and his team-mates before he can return to training with the rest of the squad.
"Initially there will be a recognition that [there needs to be] an apology to his team-mates and the club," said Rodgers when asked what Suarez needed to do next.
"I have seen him over a period of time I know it is not the Luis Suarez we know and I have to protect the fans and the players because they deserve more than that.
"He has spent some days working on his own. The group has been separate to that and working very hard.
"When he is back from his international trip [Suarez will travel to Japan with Uruguay in midweek] we will assess it from there.
"I spoke to John [Henry] when we were in Norway during the week and we are all on the same page really. We are adamant that he will not be going to Arsenal - that is for sure. We want to keep him.
"Luis missed a few games at the end of last season and we continued to score and win without him. That is not to say that we don't want him here. He is a world class striker and when he is committed to the cause of playing for Liverpool then we will welcome him back with open arms."
< show latest news