08 jul 09:54

News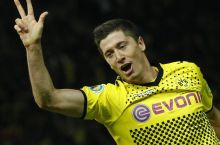 Klopp: Lewandowski will play for Bayern next season
Borussia Dortmund coach Jurgen Klopp believes Robert Lewandowski will definitely join rivals Bayern Munich next season.
Klopp has accepted that it will be impossible to keep the 24-year-old from Bayern's clutches beyond the current season but is keen to make the relationship between forward and club work in the coming 12 months.

"I think it is a known fact that Robert is going to play for Bayern after the upcoming season," he told Welt am Sonntag. "Now the only question is how to shape the time until then.

"That is our concern and it is our commitment to our fans and members to ensure that we will have a more competitive team in the upcoming season.

"Up to a certain point we were with Robert's desire for change and were ready to talk. But nothing happened so we had to eventually say: '[A sale] now no longer works for us.'

"And now we want to prove that, with a quality player like Robert, we can be successful in the coming year. Our results in the coming season is what we're all about. I know that Robert and I see it the same way."
< show latest news