04 jul 15:08

News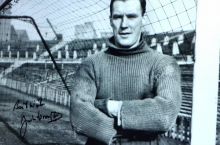 Jack Crompton passes away
It is with sadness and regret that Manchester United report former player and coach Jack Crompton has died, aged 91.
Crompton was born in Hulme, Manchester, and made his debut for the Reds on 5 January 1946. It was the beginning of an 11-year playing career with the club that included victory in the 1948 FA Cup final (thanks, in part, to a stunning performance from the big goalkeeper) and a league title in 1951/52.

When Crompton hung up his boots in 1955 following 212 first-team appearances, he turned his hand to coaching and, following the Munich Air Disaster in 1958, took up a training role, working with Matt Busby to help rebuild the side.

Barring a seven-day spell as Luton Town manager in 1962 (Crompton realised his heart lay with United and returned to Old Trafford almost immediately), he worked under Busby for nine years and was an integral part of the backroom team that led the Reds to European Cup glory in 1968.

Crompton returned to the club's coaching set-up in 1974 for a seven-year stint as Reserves manager and followed closely the fortunes of United's youth, Reserves and first teams up until his death. He attended as many matches - at all levels - and was always happy to speak to supporters about the topic he loved most: Manchester United.
< show latest news