02 jul 12:38

News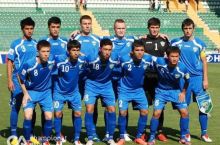 Greece vs Uzbekistan: Match Preview
In the match against Greece the head coach Ahmadjon Musaev has to prove that his side is not a one player team after an injury of his leading midfielder Jamshid Iskanderov.
Uzbekistan has qualified for the knock out stages of the FIFA U-20 World Cup 2013 in Turkey due to a crashing 3-0 win over New Zealand and a 1-1 draw against strong Croatia. However the Junior White Wolves were thrashed 4-0 by Uruguay in the last group F match. The match against Latin Americans went totally wrong for Uzbekistan after the leading player of Uzbek side Jamshid Iskanderov was injured and was replaced.

But there is also a positive news for Musaev, as the left full back Maksimilian Fomin is now back after serving a suspension in the previous match due to the excess of yellow cards.

Greek side in its turn has no losses and is very determined to win. They have beaten Mexico 2-1 and tied with Mali 0-0 and Paraguay 1-1 to progress from the first spot in group D.

In the prematch press conference Musaev rated Greece as a disciplined team.

«Of course we have analyzed their games. Greeks have spotted the first place in their group, which shows how strong team they are. Their game is based on the strong discipline. They had only one yellow card in the group stages," said Ahmadjon Musaev.

The Greece coach called his team to focus on the match, and not to mention the name of the opponent.

"We are ready for the game. We have to keep focused as we did in three previous matches. This match is very important to us. A win gives us a chance for a big progress. It will be a big success for a Greek football," said Tsanas Kostas.

In yesterday's prematch managers' meetings sides have decided on the sides' shirt colors. According to it Uzbekistan will play in blue and Greece in white.

The match kicks of at 20:00 by Tashkent, in Gaziantep, Turkey.

< show latest news