09 jul 11:51

News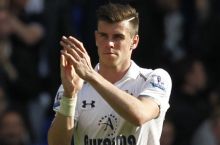 Garet Bale focused on helping Tottenham into the top-four
Tottenham star Gareth Bale has told Sky Sports that he is only thinking about helping them back into the Champions League next season.
The Welsh winger has been tracked by Spanish giants Real Madrid for much of the summer - but they have not made an official approach.
Despite his multi-award winning season last time, he's talking about helping Tottenham improve and make it into the top four next time - and he thinks he can get even better.
"I am hoping to improve from last season, every season I want to keep improving and keep becoming a better player, I have more experience now," Bale told Sky Sports News.
"For me I need to keep working hard on the training pitch and on game days and hopefully progress as a player and become even better."
Tottenham narrowly missed out on a place in the top-four to local rivals Arsenal last season, but Bale is determined to go 'one better' next term.
"I think everyone at the club wants us to finish in the top four, the club wants to be in the top four and we need to go one better this season and finish in the top four."
< show latest news