02 dec 12:56

News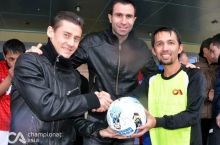 Championat.asia turns 3 today!
We are trying to share all football news about Uzbek and World football to all users. And our site turns 3 today.
Yesterday we presented for fans spectacular football show in artificial pitch of Uzbekistan football federation.

Editorial group of Championat.asia organized football show between football players and fans at UFF artificial pitch yesterday. More than 100 fans, readers of our site participated in action. And there were participants of FIFA U-17 World Cup in UAE and players from several teams in Oliy league.

Despite rainy weather, teams worked very much. We will remind each team incorporated on 10 football players. Uzbekistan national team players - Server Djeparov, Temur Kapadze, Farhod Tadjiev and Sanjar Tursunov have come to the show. We want to say our thanks to all players and fans. Thanks for everything and you are together with us!

Football match has ended with victory of first team, 2-0.
"CA-1" - "CA-2" - 2:0
"CA-1": Sarvar Karimov, Rustam Ashurmatov, Jamshid Boltaboev, Ibrokhim Abdullaev, Temur Hakimov, Javokhir Siddikov, Kattabek Ochilov, Azamat Nazarov and others.
Head coach: Dilshod Nuraliev.

"CA-2": Alexander Lobanov, Bakhtiyor Ashurmatov, Sanat Shikhov, Umarkhuja Rasulkhujaev, Fayzulla Saydulaev, Utkir Adkhamov, Mirshod Bekmurodov, Azizbek Ergashev and others.
Head coach: Bakhtiyor Ashurmatov.


< show latest news