03 jul 15:41

News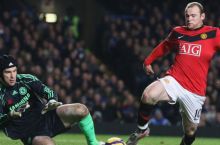 Cech: I could see Rooney in a Chelsea shirt
The Blues keeper believes the England striker would be a welcome addition to the Stamford Bridge squad should he decide to leave Manchester United this summer
"I could see him in a Chelsea shirt," the Czech Republic international told Sky Sports. "Players can change shirts and obviously he had a fantastic career with Manchester United and sometimes players need new challenges.
"Sometimes the consequences are the way that you are looking for the new challenge and change of the shirt.
"So if that happened, obviously he is a fantastic player and he will be welcome to our squad but now we are only in the moment of speculation about it so we will see what this week will bring.
"He's a great player and you always want to see great players in your team."
< show latest news