09 aug 11:29

News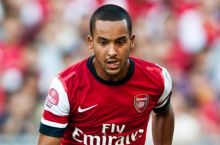 Arsenal forward Theo Walcott hails squad, with or without Luis Suarez
Theo Walcott believes Luis Suarez fits the bill for Arsenal but the club will remain strong even if they are unable to sign him.
Uruguay international Suarez, 26, has been the target of a specific offer of £40million plus £1 which Arsenal chiefs believed would trigger his release clause but was rejected out of hand by Liverpool.
Suarez has since made it clear he wants to leave and, in a wide-ranging interview earlier in the week, complained of what he saw as broken promises from Reds manager Brendan Rodgers.
Walcott, who would likely see his own ambitions of playing in a central role greatly reduced if Suarez was signed, thinks the Liverpool forward would be a great addition but has also backed Arsene Wenger's men to do well this year with our without the marquee signing.
"If he (Suarez) comes, great," Walcott said.
"Even if we stay as we are now, we are a great team and we showed that in the last 10 games last season. We just need to do that a bit more on a consistent level at the start of this year but every player who is at Arsenal is a top-class player.
"You're not going to get an average player come to Arsenal, I think that every player that is here is a top-class player. The boss has believed in so many players he has brought in and they have done so well."
< show latest news