07 aug 13:59

News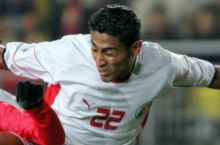 AFC President expresses sadness at Sayed death
AFC President Shaikh Salman bin Ebrahim Al Khalifa has conveyed his deepest condolences on the tragic and untimely demise of Yemen international Awsam Al Sayed.
The 26-year-old, who was on his way to a training session along with four other teammates, met with an accident and died on the spot while his teammates – Hamada Al Wadi, Akram Al Salwi, Nizar Rizq and Anees Saleh – are being treated in the hospital.

"I am deeply saddened to hear about the death of a young Yemeni player in a car accident. He represented his country in many international games and still had many years of football ahead of him," Shaikh Salman said.

"On behalf of AFC and the Asian football family, I extend my condolences to Al Sayed's family, friends and well wishers.

He also wished the four injured players saying, "I would like to wish speedy recovery to the wounded players and hope that they will be back on the field again soon to represent their country."

Al Sayed represented Yemen in the 2007 AFC Asian Cup qualifiers, 2008 and 2012 Olympics qualifiers and 2010 and 2014 FIFA World Cup qualifiers. He started his club career with Hassan Club and moved to Al Hilal Al Saheli in 2011.

< show latest news