06 dec 15:55

News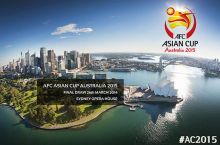 AFC Asian Cup draw set for March 26
The Sydney Opera House will host the draw for the biggest football tournament ever staged in Australia, the AFC Asian Cup Australia 2015, on March 26, 2014.
It will attract around 300 VIPs and officials from the Asian Football Confederation and the 16 competing teams.

"March 26, 2014 is a date all fans of Asian football should mark in their diaries as it is the day that groups and matches for the AFC Asian Cup Australia 2015 will be revealed," said AFC General Secretary Dato' Alex Soosay.

"The Sydney Opera House is an iconic location and the Asian Cup is an iconic sporting event," said Michael Brown, CEO of the AFC Asian Cup Australia 2015 Local Organising Committee.

"Fans will finally know which matches they can see in our five host cities of Sydney, Melbourne, Brisbane, Canberra and Newcastle."

Twelve nations have already qualified for AFC Asian Cup Australia 2015 – Australia as hosts, defending champions Japan, Korea Republic and 2012 AFC Challenge Cup winners DPR Korea, along with recent qualifiers Bahrain, Iran, Kuwait, Oman, Qatar, Saudi Arabia, the United Arab Emirates and The final 16 teams will take part in a 23-day festival of football which the Socceroos will kick off on January 9, 2015, in Melbourne, with the final set for Sydney's Stadium Australia on January 31, 2015.

< show latest news