08 aug 19:43

News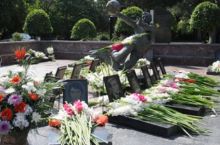 A new memorial to the team "Pakhtakor-79"
In honor of the team "Pakhtakor-79" in the cemetery number 1, popularly known as the graveyard Botkin, set a new memorial monument.
Its opening will take place on August 11, at 9:00 in the morning. During the opening ceremony will be attended members of Uzbekistan Football Federation, the Professional Football League of Uzbekistan, representatives of the media and the general football community.

Note August 11, 1979 at 13:35 in Dneprodzerzhinska at an altitude of 8,400 m encountered two passenger aircraft Tu-134A. One of the aircraft performing flight Tashkent - Minsk. On board were 84 people, including 17 players of the team "Pakhtakor". The second followed the route Chelyabinsk - Voronezh - Chisinau. On board were 88 passengers and 6 crew members. Killed 178 people - 13 crew members and 165 passengers, including the football team.

Since then, at Botkin cemetery where were buried the players "Pakhtakor", the day of the crash honored their memory.

< show latest news