02 aug 18:45

News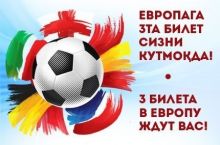 3 TICKETS TO EUROPE!
FIFA.uz announces an unprecedented event for all registered users!
Take one of the top 3 places in the overall ranking of the "Big Five" (the sum of all five points of the European championships : England, Germany, Spain, Italy and France ) and get a free trip to the championship match of the internal favorite European team, including flights in both directions , hotel accommodation and tickets to the game itself !

conditions:
1. Presentation of prizes will take place after the end of season 2013/14 . Accurate information about the date and place of delivery of prizes will be published on the site FIFA.uz.
2 . Matches , tickets for which the winners will receive will be determined by the administration FIFA.uz at its discretion.
3 . The cost of the trip will include: a ticket to a football match , air fare and hotel accommodation. Airlines types of flights ( direct or transitive ) and hotel accommodations will also identify administration FIFA.uz.
4 . All liability and costs associated with obtaining visas , award winners undertake.
< show latest news