13 mar 16:46

News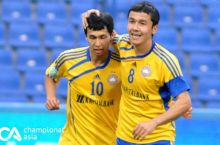 6 teams continue without misses
6 teams won 2nd round matches in Oliy liga and have 6 points.
Big 4 clubs - Pakhtakor, Lokomotiv, Nasaf and Bunyodkor achieved 2nd victories as expected. Pakhtakor beat Kokand-1912 in tashkent 4-0. Sergeev scored 2 goals. Topscorer of the last season continue to score. Lokomotiv edged Andijan in away 3-1. Mirzaev`s goal and Abdukholiqov`s double gave Lokomotiv second away win.
Nasaf achieved victory over Almalyk in Almalyk for the first time since 2012. Karshi side made comeback after 0-1 in the second half. Rakhmatullaev and Rakhmatov scored first goals for Nasaf. Bunyodkor beat Sogdiana in Jizzakh. Nasimov was author only goal.
Kyzylkum and Metallurg reached second victories also. Navoi side beat beat Shurtan 1-0 in Guzar, Yunusov scored his 3rd goal in the season from penalty. Kyzylkum used 3 penalties already. Metallurg edged Mashal in away field with the result 3-1.
Neftchi gained important victory in the difficult Fergana valley derby over Navbakhor. Khakimov hammered ball with head shot in the first half. Obod hold Bukhara in Tashkent with goalless draw.
Oliy liga
Pakhtakor - Kokand-1912 4-0
Goals
: Sergeev 19, 57, Karimov 62, Berdiev 85.
Andijan - Lokomotiv 1-3
Goals:
Valijonov 90+1 - Mirzaev 25, Abdukholiqov 80, 87.
Almalyk - Nasaf 1-3
Goals:
Tadjiev 26 - Abdurakhimov 71, Rakhmatullaev 83, Rakhmatov 87.
Mashal - Metallurg 1-3
Goals:
Turaev 13 - Esonqulov 52, Abdujabborov 73, Abdullaev 84.
Sogdiana - Bunyodkor 0-1
Goal
: Nasimov 24.
Shurtan - Kyzylkum 0-1
Goal:
Yusupov 72 penalty.
Neftchi - Navbakhor 1-0
Goal:
Khakimov 20.
Obod - Bukhara 0-0
Similar news
< show latest news