10 dec 14:50

News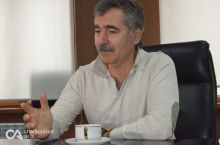 Vadim Abramov: It's new opportunity for me to work in Kazakhstan
New manager of FC Astana from Kazakhstan Vadim Abramov told to www.championat.asia reporter about his life career as a player and as a coach.
Abramov, former head coach of National team of Uzbekistan told how he admitted to work in Kazakstan.

"I was born in Azerbaijan. My father really liked football. I clearly say that he attracted me to football. My mother was Russian and father was Armenian. I was born in 5th of August, 1962. At the age of 8 I started playing football. I started football in Neftchi Baku. I can say that I was a good player, that's why I played also in Azerbaijan national youth team. I played for youth team from 1976 to 1979".

"In 1981 I went to army to Afghanistan. There was war in this time here. And I also fought with enemies. After war I came to Uzbekistan and continued to play football. I met here Yevgeny Valitskiy, football coach. He took me for his team. In 1987 FC Pakhtakor became first professional club of Uzbekistan. After finishing football career I began to work in Pakhtakor as an administrator. Then I moved to Neftchi Ferghana and continued to work here with Yuri Sarkisyan. After that I had some break in my career. I started my own business. Then I decided to be football coach and first worked in NBU-Asia in First Division".

"After that I took FC Traktor which participated in Oliy League. Then I worked in Lokomotiv before I took national team of Uzbekistan. I worked for three years with National and Olympic teams of Uzbekistan which gave me very big experience. In FIFA World Cup 2014 Qualification we were unlucky so I left national team. And after 1,5 year break I took FC Astana. I understand that it will not be easy to work in Kazakhstan but I try my best. I can say that it will be new opportunity for me to work in Kazakstan".

< show latest news