15 nov 19:27

News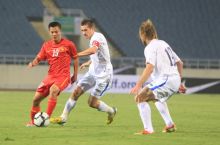 Uzbekistans big win over Vietnam
Uzbekistan national team played away match against Vietnam for the qualifying to AFC Asian Cup 2015 and won with a good result 3-0.
At first in the 42th minute of the match uzbek forward Vohid Shodiev opened the score while Vietnam goalkeeper made very big mistake.

In the beginning of second half Igor Sergeev made it 2-0 by the header. In the last minute of the match another young player Sardor Rashidov scored the teams third goal. As you know Uzbekistan team scored three goals in the first game in Tashkent. In Hanoi also the same thing repeated. Now after second win Uzbek team earned 7 points and takes second place after UAE in the group E.

In this match head coach Mirdjalal Kasimov gave a chance to some young players like Eldor Suyunov, Davron Hashimov, Sardor Rashidov, Jamshid Iskanderov and Igor Sergeev to show themselves. And also we have to admit that a player Vohid Shodiev who scored the first goal made his debut in national team for the first time.

< show latest news