11 nov 11:21

News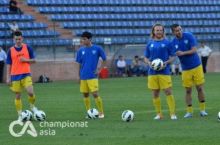 Uzbekistan national team started training camp
Uzbekistan national team started training camp for the matches against Vietnam and Hong Kong. As you know national team play against Vietnam on November 15 and against Hong Kong on November 19 for AFC Asian Cup 2014 Qualifying. Both matches will be played away.
Head coach Mirdjalal Kasimov invited 24 players for two official matches. Sanjar Tursunov and Bahodir Nasimov will join national team today while Odil Ahmedov from Anji will come to Tashkent tomorrow. Team captain Server Djeparov joins teammates on November 12 in Hanoi.
National team fly to Vietnam tomorrow. At that moment Uzbekistan with four points takes second place in group table. UAE national team who has 9 points is going on first place.
< show latest news