03 jun 13:20

News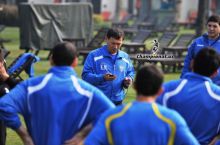 Uzbekistan National Team Start Training Camp
Head coach Mirjalol Kasimov started the training camp with his squad in Tashkent yesterday on 2 Junue. The white wolfs will set off to China on June 4 to play friendly with the hosts. The match is set to be played on June 6 in Hahot city.
After the match with Chinese national team, Kasimov's squad will travel to the neighboring Korea Republic to play the 9th round WC qualification match with the hosts.

Kasimov is expected to name the final squad for the upcoming three matches against China, South Korea and Qatar today.

< show latest news