31 may 12:03

News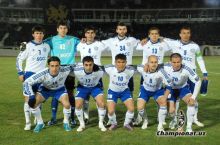 Sogdiana – Nasaf: Match Preview
Sogdiana and Nasaf previously played with each other in Oliy Liga (Uzbekistan Professional Football League) 24 times.
Sogdiana – Nasaf
31st May. Zomin Stadium.
Kick off 17:30
Referees: B. Namozov, R.Shoyahmetov, N.Ruzimov, A.Choriev.

Nasaf has an advantage of 17 wins against Sogdiana's 6 victories. One game finished draw. The goal difference is also in favor of Nasaf 48:22. In mutual games the Dragons earned 52 points, while Sogdiana got 19.
Nasaf's highest winning score against Sogdiana was 4:1. Sogdiana's 3:2.
Sogdiana was in relegation from the Oliy Liga in 2012. The last match the team played in the top league with Nasaf was in 2011, when Nasaf has wrapped up 6 points from the both leg matches.

The last 5 matches between the teams in Jizzakh:
23.09.2011 Sogdiana – Nasaf 0:2
26.09.2009 Sogdiana – Nasaf 1:4
29.08.2008 Sogdiana – Nasaf 2:1
07.05.2006 Sogdiana – Nasaf 0:2
21.08.2005 Sogdiana – Nasaf 0:1

Stat: There wasn't any draw match between the two teams when Sogdiana hosted the match. Sogdiana has won 5 times while Nasaf has won 7 times.

< show latest news