19 aug 11:44

News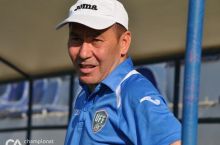 Nuraliev hopes his team will play better
On August 18 Uzbekistan youth team (U-17) won over Iran youth team (U-17) with a result 2-0.
Head coach of Uzbekistan team Dilshod Nuraliev hopes that his team can play better. Goals by Ibrohim Abdullaev and Izzatilla Abdullaev gave Uzbekistan team first win.

Four our main players couldnt participate in this match because of injury. So we could not show our game. But anyway we won today. I am agree that in friendly matches result is not important but if you win its always good. We have left two games against Iran team on August 20 and 22 and in these matches other players will have a chance to play who didint play today. During the first game we made some mistakes, so we have to work on mistakes.

< show latest news