03 aug 14:21

News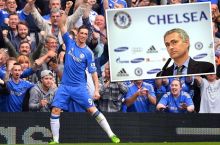 Mourinho: Chelsea style must change to suit Torres
Chelsea manager Jose Mourinho believes Fernando Torres has yet to hit his straps in London because his team-mates have not adapted to him.
Torres joined Chelsea from Liverpool in January 2011 for £50million but has scored just 34 goals in 131 appearances for the London-based English Premier League club, prompting plenty of speculation the 29-year-old Spanish striker is past his best.

But Mourinho, who has rejoined Chelsea as manager after five years coaching outside England, is convinced he can get the best out of Torres in the upcoming campaign.

"He (Torres) is not a kid any more, he is at an age where it is difficult to change his play," Mourinho said after Chelsea's 2-0 friendly win over Inter Milan on Friday.

"He is what he is and he is very good with the qualities that he has got.

"So we need to learn and support his game.


< show latest news