10 dec 15:03

News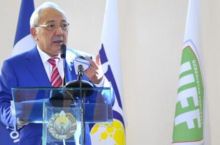 Mirabror Usmonov re-elected the President of UFF
Uzbekistan Football Federation President Mirabror Usminov re-elected President of UFF for four years.
Mirabror Zufarovich said that goals before National and Olympic team will not change.

"I am very proud of working in football. I have worked as a President for eight years and it is not easy to work in uzbek football. We always try to do our best. Our main aim is to go to the FIFA World Cup 2018 which will be held in Russia", said Mirabror Usmonov.

"Before we did not have fundament in football. In eight years we put fundament to uzbek football. Now we can ask good promotion from all teams. I am happy that we are working in very good group. If we work such we can make good result", said president of UFF.

< show latest news