04 aug 13:49

News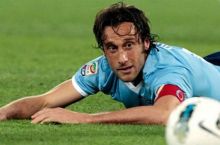 Lazio's Mauri banned for six months in match-fixing trial
Lazio captain Stefano Mauri has been banned for six months by the Italian FA for failing to report match-fixing.
The soccer tribunal also fined Serie A club Lazio 40,000 euros ($53,100) and Lecce, demoted to what is effectively the third tier in Italy for their part in the scandal, 20,000 euros.
Mauri was one of eight players accused of sporting fraud relating to Italian Cup winners Lazio's final two matches of the 2010-11 season, when they beat Genoa 4-2 at home and Lecce by the same score away.
The midfielder was found guilty of failing to report match-fixing relating to the Lecce match, but cleared of any wrongdoing regarding the game against Genoa.
Mauri said he would appeal against the ban
< show latest news