27 jun 11:46

News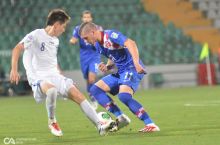 Croatia 1-1 Uzbekistan
Uzbekistan missed the chance to qualify for the next round of the FIFA U-20 World Cup with a game to spare after drawing with Croatia 1-1 yesterday.
Following the impressive opening match against New Zealand, Uzbekistan had to prove their 3-0 win was not accidental. Unlike the first match Ahmadjon Musaev's boys din't have the easy game, having only 4 shots on target compared to 14 in the first game. Croatians looked physically strong and were getting most of the upper balls. But Junior White Wolfs were more dominant with the tiki taka and making Croatians foul.

Surprisingly the Uzbekistan's goal came after a free kick and Turopov's heading the ball towards the goal, where Sardor Rakhmanov change the direction of the ball into the back of the net.

In the second half Croatia managed to score after a free kick, when Livaya sent an easy ball after a defense mistake.
Uzbekistan will now take on Uruguay in their final group stage match on Saturday. The match will take place in Antalya.
Goals scored
Sardor RAKHMANOV (UZB) 24',
Marko LIVAJA (CRO) 65'

Cautions
Maksimilian Fomin (Uzb) 41, Sardor Rakhmanov (Uzb) 51 , Niko Datkovic (Cro) 54, Dario Canadija (Cro) 61, Jozo Simunovic (Cro) 70, Ivan Aleksic (Cro) 90+2, Tohirjon Shamshitdinov (Uzb) 90+2

Croatia
Oliver Zelenika (Gk), Toni Gorupec, Ivan Aleksic, Filip Mrzljak (C), Niko Datkovic, Marko Livaja (-80), Hrvoje Milicevic (-54), Marko Pjaca (-67'), Ante Rebic, Dario Canadija, Jozo Simunovic.

Uzbekistan
Asilbek Amanov (Gk), Tohirjon Shamshitdinov, Sardor Rakhmanov, Boburbek Yuldashov, Maksimilian Fomin, Abbosbek Makhstaliev, Vladimir Kozak (C) (-67), Diyorjon Turapov (-61), Jamshid Iskanderov (-79), Igor Sergeev, Sardor Sabirkhodjaev.


< show latest news