07 aug 00:26

News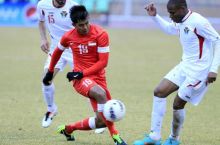 Baniateyah blow for Jordan
Jordan will be without the services of Khalil Zaid Baniateyah for the upcoming AFC Asian Cup 2015 qualifiers against Syria as the Al Faisaly midfielder sustained injury ruling himself out for the August 15 showdown against the West Asian neighbours.
The 23-year old will undergo medical treatment with the hope of making a comeback in Jordan's crucial FIFA World Cup 2014 playoff against Uzbekistan next month.
It is believed that the Al Faisaly stalwart will need at least two weeks' time to get back into the action. Baniateyah, who represented Jordan in all age-category tournaments, had scored three goals during the successful qualifying campaign for the AFC U-22 Championship.
In a hectic schedule, Jordan have two AFC Asian Cup 2015 qualifying matches starting with the Syria tie next week followed by an October clash against the West Asian neighbours on October 15.
In between those matches, the country will be featuring for the first time in an Asian playoff for the World Cup and will meet Uzbekistan twice in early September. They host the Uzbeks on September 6 and four days later travel to Uzbekistan for the return leg of the competition
< show latest news