30 jul 13:18

News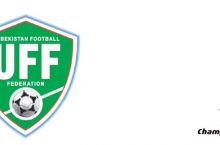 August training program for all national teams announced
Center for National Teams of the UFF has approved the training program of all national team of Uzbekistan in August.
Uzbekistan National team under Mirjalol Kasimov will start the training camp on August 11 to play a friendly with Turkey National Team on August 14 in Tashkent. The training camp and a friendly match are a part of the preparation program for the World Cup play off against Jordan.

Uzbekistan U-19 under Aleksey Evstafeev will have a training camp in Dukent on August 2-13. They have recently had another training camp in Tashkent on July 14-21, during which they have played a friendly with Pakhtakor reserves.

Dilshod Nuraliev's U-17 team is set to hold a training camp in Tashkent between August 16-23. There are two friendlies with Iran youth team scheduled, which should take place in Tashkent. Nuraliev's team has been qualified for the FIFA U-17 World Cup which will start on October 21 in the UAE.

Uzbekistan U-16 under Temur Olimkhujaev will gather for a training camp in Tashkent on August 2. They are preparing for the Asian Qualification matches for U-16 Asian Championship 2014, which will be hosted by Tashkent.

Uzbekistan U-16 girls team will hold a training camp in Jordan. Gulnora Azamova's girls will meet the hosts in two friendly matches. The team is preparing for the U-16 girls Asian Championship in China, which should start on Septermber 26. The top three teams of the tournament will qualify for the FIFA's U-17 World Cup 2014 in Costa Rica.

< show latest news