06 jul 15:47

News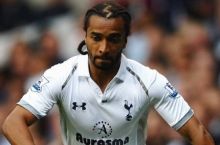 Assou-Ekotto: I've never heard of Paulinho
The Spurs defender is notorious for his lack of interest in football and admits he knows nothing about the club's new £17 million signing as he prepares for the new season.
Tottenham defender Benoit Assou-Ekotto admits he has never heard of new team-mate Paulinho as the club prepare to announce the €20 million signing of the Brazilian midfielder.

Paulinho, who starred for his country at the Confederations Cup, flew to London on Friday to undergo a medical and sign a contract to complete his transfer from Corinthians.

"I don't know what he looks like," Assou-Ekotto told Goal. "I don't know him, I don't follow this kind of news.

"It's like two or three years ago, Rafael van der Vaart was there in training one day. I said hello to him but I didn't know he was Rafael van der Vaart.

"I don't understand people who don't understand me [not showing an interest in football]. Most people don't go back home with their job and it's the same for me."
< show latest news